Personalized Key Rings make for Great Cheap Personalized Gifts for Everyone. See the Monogrammed Keychains for Men and Women.  Customized Photo Key Rings etc… Add your own Photo, Artwork or any Image or Special Message on many different Styles and Sizes of Customizable Keychains No Minimum Order and No Set Up Fees. Search Here ZAZZLE HERE:  See ALL of my designs and gifts CLICK HERE to SEARCH ZAZZLE for Special Gifts
Personalized Key Rings 


Add Your SQUARE Photo to these Cheap Photo Keychains with many 5 STAR Reviews. Crisp Detailed Printing Acrylic Photo Keychains in Bulk.  Order 1 or Order 10 or more to receive Bulk Discounts. CLICK the blue "Change" word under the temporary image, and Click the "Select 1 Image to Upload" and Choose your Square Photo (for these keyrings). Type in YOUR TEXT or Name.  What a fun and cheap personalized gifts.
Personalized Key Rings
Bulk

Discounts too yet No Minimum Required

100% Love it Guarantee with fast shipping.  I am amazed by Zazzle's less than 1% of their items are ever returned. It is because of the great quality control. They carefully inspect every gift to make sure the design sits correctly on the product. Many of the gifts are made in America.  See the Better Business Bureau rating of A+ they gave Zazzle.  http://www.BBB.org
Customized Keychains No Minimum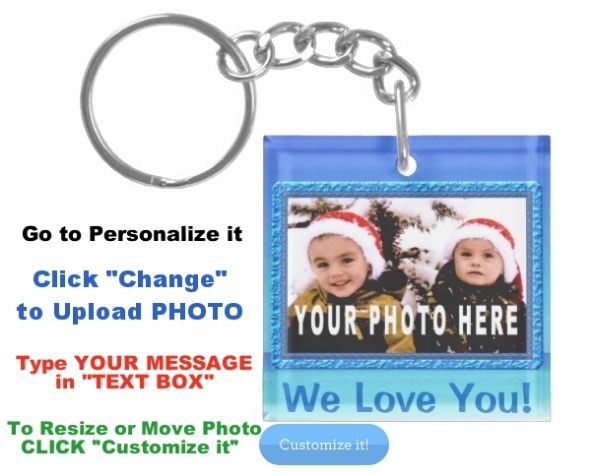 Personalized Key Rings Bulk Order Discounts starting with only 10 Keychains Bulk Orders or more on the Cheap Acrylic Keychains.  The discounts increase to wholesale keychains priceing.
CLICK HERE for this Picture Keychains with Your PHOTO and MESSAGE
This is one of my more popular keychains because you can ADD YOUR PHOTO and YOUR TEXT.  I created a banner for your text so it would stand out from the photo and not be hidden by the many things in photos. A Square or Round image works best.  It will be much easier for you to crop your photo ahead of time.
Cheap Custom Keychains No Minimum

Why does Zazzle only have Less than 1% Return Rate. It is because of their Quality Products and Materials and Crystal Clear Printing and Attention to absolute Detail. This is another reason why they Earned a A+ Rating from the BBB. I love every product I bought from them. The products are much better than typical personalized gifts.

See How to Make Photo Keychains Detailed Instructions BELOW.
Go to the "Personalize it" area and Type in YOUR TEXT in the TEXT BOX
Personalized Key Rings

Remember when you used to have to pay a Set Up Fee and then a Minimum Order Requirement.  Not at Zazzle. You can buy just one of the super special Personalized Key Rings or Personalized Key Rings Bulk.  It is up to you. Businesses can give their customers gifts so individualized, they will remember you forever.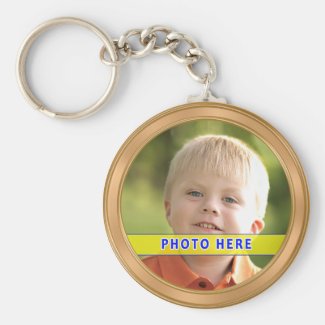 Personalized Photo Key Chain with INSTRUCTIONS
by
LittleLindaPinda
Look at Personalized photo Keychains online at
Zazzle.com
PICTURE KEYCHAINS. ADD YOUR PHOTO and or MESSAGE, NAME TEXT.  Cheap Customizable Keychains yet they are Quality products with Superior Printing. See How to Create Your Own Keychain Online.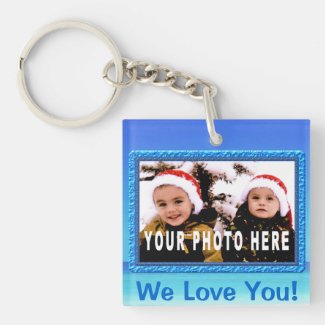 Customizable Picture Keychains with Frame surrounding YOUR PHOTO & TEXT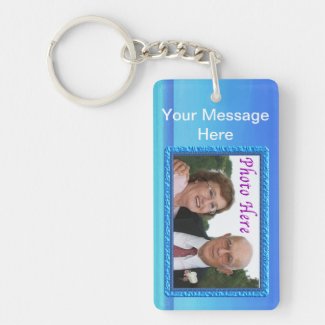 Your Message and Photo Keychain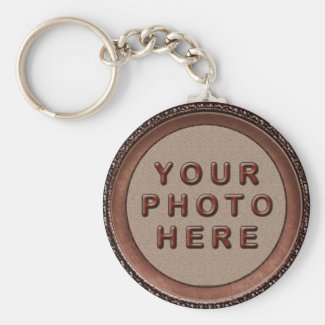 Personalized Photo Keychains for Men
Best Keychains for Men Type in YOUR MONOGRAM in the Text Box Templates
Monogrammed Keychains for Men.  I love the rich Brown Suede Like Background with a Handsome Frame setting off Monogram on Key Ring. Royal Blue Monogram Keychains Initials for Women. Choose Style and Size.  Shown are the Premium Silver Finish Keychains.
They come in round and square styles and small and large sizes.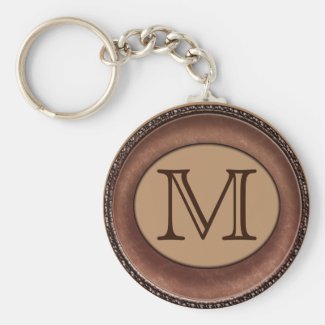 Monogrammed Personalized Keychain for Men
How to Make Personalized Key Rings and Photo Keychains Online:

1. Once you Click on a Product, on the Zazzle Site, Go to the "Personalize it" area.
1. To ADD Your Own PHOTOS and IMAGES:
CLICK "Change" located under the Temporary IMAGE(S) Photo Here
"Upload New Image" and or "Select 1 image for upload" CLICK "OK"
* * * To RE-SIZE or MOVE Your Image, Click the ORANGE "Customize it" Button and Drag Photo or grab tiny gray boxes on dotted line to Re-Size.* * *
2. In the "YOUR TEXT HERE" BOX:
Highlight "YOUR TEXT HERE" and "Type in Your PHRASE or NAME or ???". or simply CLICK the "X" near "Change text" to DELETE the TEXT altogether.
For MORE Customization Options:
* * * Click the BLUE "Customize it" Button (located below the product).* * *
CLICK " f " to choose a Different FONT STYLE. To Change the Font Color, CLICK on the Color Drop Down Box and Select a Color. You can change the Font SIZE too by entering Font Size Number or Click the " + or – "
To Change the BACKGROUND COLOR. Click the "Edit" Drop Down Box and Select "Background" then choose a Color and Click DONE.
3. Below the Color & Style Options: Choose from many different styles of Customizable Keychains and Photo Key Rings.
If you need any Help Adding Your Photo and or Messages to ANY of my Zazzle products, feel free to Call Linda at 239-949-9090 or email, [email protected] Subject Line "ZAZZLE HELP" or CLICK the CONTACT BUTTONS.
Personalized Key Rings and Customizable Keychains are such special gifts yet they are very affordable. Look into free shipping with Zazzle Black. It only costs you $9.99 for a Full Year of Free Shipping. They will send your gifts directly to their home for your convenience. Zazzle notifies you by email about renewing your Free Shipping subscription.
f you don't do anything, it will automatically renew, which is what I did.  My Zazzle free shipping paid for itself after only 2 orders.  I highly recommend this if you think you will be shopping at Zazzle at least twice a year.
I love how I can buy just a cheap personalized gifts and not worry about how much the shipping is.  I can have big or little gifts sent right to my grandchildren, my kids and my mom.  My mom also raves about Zazzle.
See this article she partially wrote about Personalized Photo Stamps being great gifts for grandmothers who have everything. Good Gifts for Grandmothers who have Everything/
100% Satisfaction GUARANTEED. None of my family has ever had to return anything from Zazzle. It is a comfort knowing that we can if we want to. You should here the excitement when they open up their gifts. Most of the time I send it directly to their home because I can't be there. This last Thanksgiving though I did get to see them. I smiled because they were so happy.
Personalized Key Rings designs by Little Linda Pinda
Search Here ZAZZLE HERE:
CLICK HERE to SEARCH ZAZZLE for Special Gifts