Florida Christmas Cards and Florida Ornaments are original designs by Little Linda Pinda. I live and love Florida. In 2010 we moved to Florida from Wisconsin.
The joy of living in paradise inspired me to create these really pretty and cheerful Florida Christmas Cards and Beach Ornaments. Some of the backgrounds are an actual photo that I took of a Florida Beach. I then digitally painted the cheery Palm Trees and created the Umbrella and Chairs and the cheerful bright sunshine.
CLICK HERE to visit Little Linda Pinda Designs
Type in YOUR CITY, STATE or NAME in the TEXT BOXES under the "Edit this design template" to the right of each Beach Christmas Card.
Zazzle offers the Best Personalized Christmas Cards. They use heavy paper stock, outstanding Crystal Clear Printing and Fast Service. This has earned them an A+ BBB, Better Business Bureau Rating and High Reviews from customers.
 Florida Christmas Cards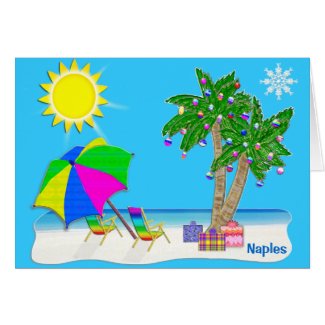 Naples Florida Christmas Cards
or ADD YOUR CITY or STATE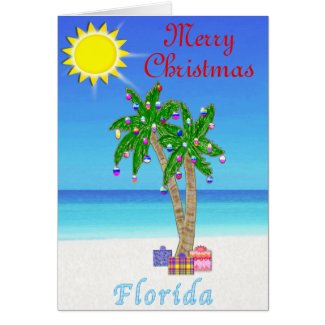 Personalize these
Florida Christmas Cards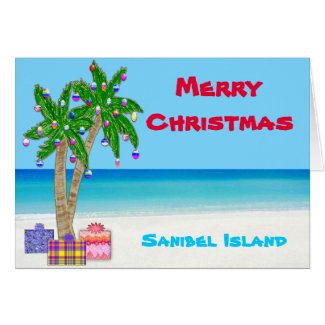 Sanibel Island Florida Themed
Christmas Cards from Florida
Click on Naples Florida Christmas Card to take you to ALL of my Tropical Christmas Gifts

Many can be Personalized by You. Just Type in Your Message, Name, City or State in the Text Boxes that are located underneath the "Personalize it" area to your right of each product once you are at the product page on Zazzle.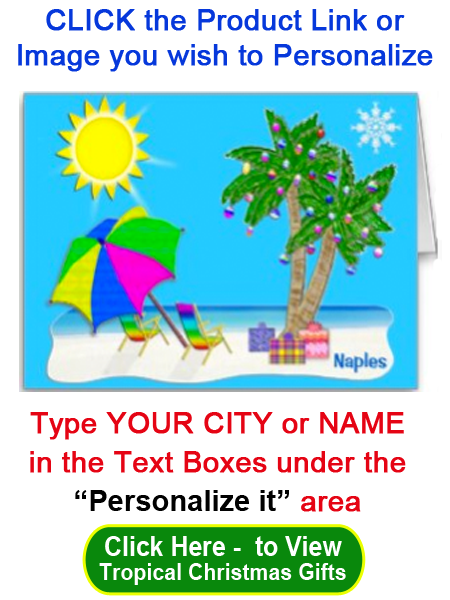 Florida Ornaments.
Some of these have an actual photo of a Florida Beach with the Graphics and Painting Added. Be sure to look at the backside of the Florida Ornament. If it is customizable, you will see the TEXT Boxes under the "Personalize it" area. Just Type in YOUR MESSAGE or Words in the TEXT Boxes for really special Florida Christmas Gifts.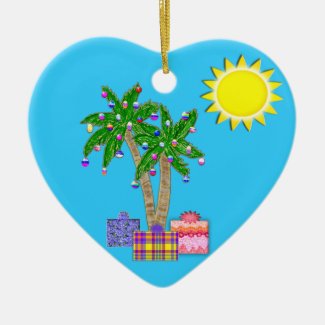 Florida Ornaments.
Florida and Merry Christmas
on Back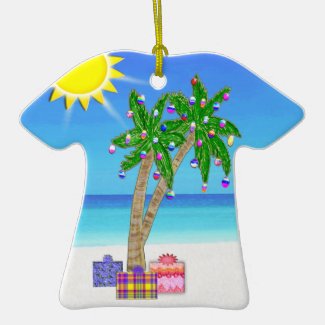 T Shirt Styled
Florida Ornament
Original Design Beachy Clocks

Choose from Small Round, Large Round and Square Clock in the "Styles Options" area after Clicking on this Product. Affordable custom Tropical Themed Wall Clocks
Thank you so very much for shopping with Little Linda Pinda Designs and Florida Christmas Cards with matching and coordinating beach ornaments.  I am creating new designs for my Zazzle products nearly every day. Please visit my Zazzle Store and Bookmark it so you can return and see my newest designs. Little Linda Pinda Designs Please CLICK HERE and BOOKMARK for future visits
I hope these Florida Christmas Gifts will bring a smile to someone.