Original Designed Gift Ideas for Snowbirds. Affordable Personalizable gifts that you can change. Cheerful Tropical Beach Gifts for Grandma and Grandpa, Mom and Dad or Anyone who is a Snowbird Florida or any other Tropical Paradise. Snowbird T Shirt and other nice personalized Gift Ideas for Snowbird Florida gifts.
Matching Grandma and Grandpa Mugs are great Gifts for Snowbirds.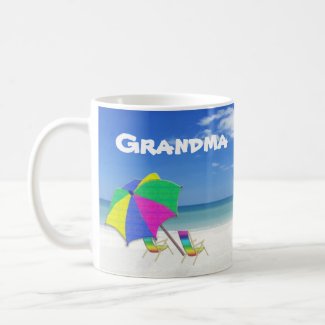 Gifts for Snowbirds, Grandma Mugs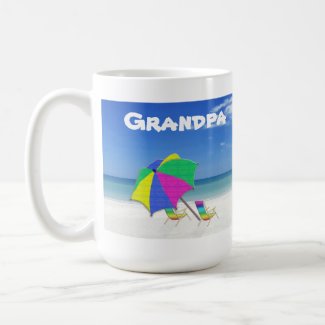 Gifts for Snowbirds, Matching Grandpa Mugs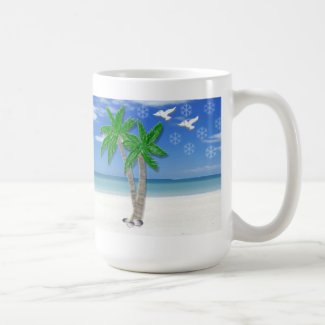 BACK VIEW of Matching Grandma and Grandpa Mugs
Snowbird Shirt and Beach Apron for the "Snowbird Griller"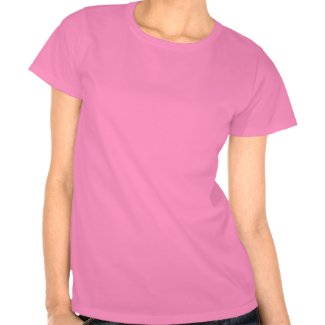 121 Different Styles of Snowbird Shirt
Beach Themed Christmas Cards. ADD YOUR PHOTO and TEXT to the Tropical Themed Photo Christmas Cards. Call Little Linda Pinda for Help at 239-949-9090.
Go to the "Personalize it" Area, Type in Your NAME or City or Message in the TEXT BOXES and CLICK the tiny blue "Change" underneath the temporary YOUR PHOTO HERE Image. To Move or RE-SIZE your Image, Click the Blue "CUSTOMIZE IT" Button and Select your photo and move it around by the little gray handle boxes.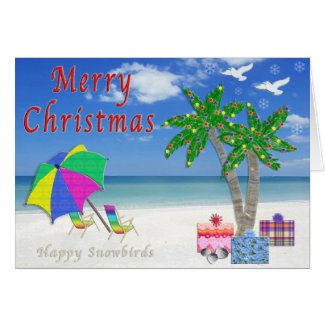 Happy Snowbirds Beach Christmas Cards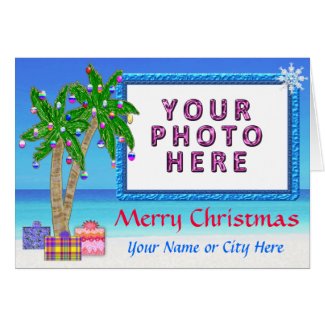 Tropical Themed Photo Christmas Cards
More Gifts for Snowbirds. Customizable Beach Cap and Snowbird T Shirt are all Customizable Gifts. Type in YOUR TEXT in the TEXT BOXES in the "Personalize it" Section to the Right of the Tropical Gifts. Choose from many Styles and Colors of Beach Themed Gifts and Snowbird Shirt. 121 Various Styles of Shirts and Lots of Colors too.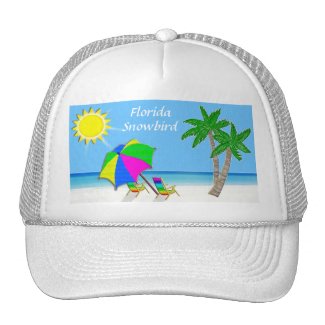 Beach Caps for Men and Women. Change "FLORIDA SNOWBIRD"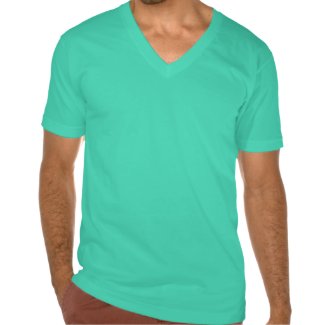 Florida Snowbird Personalized V Neck T Shirts for Men and Women
Fun Personalizable Gifts.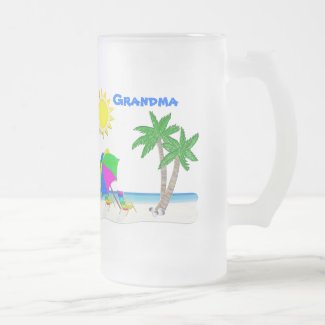 Personalize Beach Mugs with ANY NAME or TEXT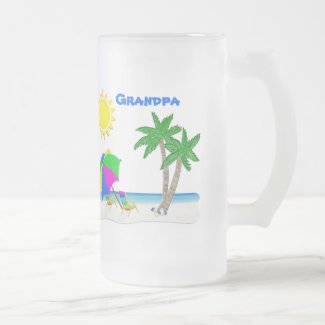 Frosted Personalized Mugs, Change Grandpa Mug to ANY NAME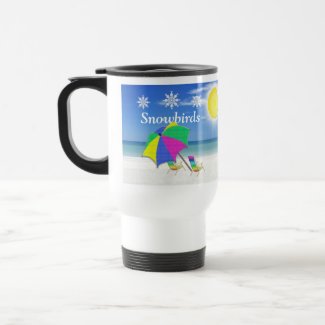 Customizable Travel Coffee Mugs No Minimum Order. Stainless or White
Snowbird T Shirt for Men and Women. Choose from 121 Styles, Colors and Sizes.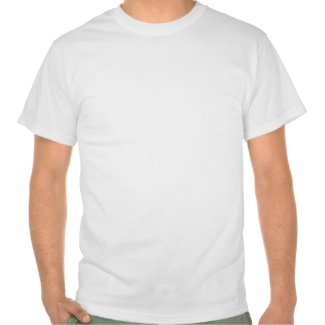 Florida Squirrel T Shirts for Men or Choose Ladies Styles too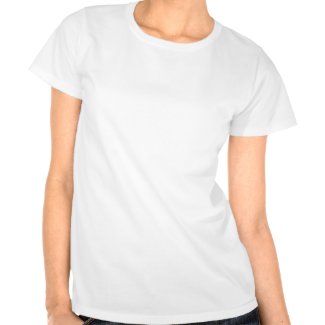 I Love Florida T Shirt with Palm Tree and Rose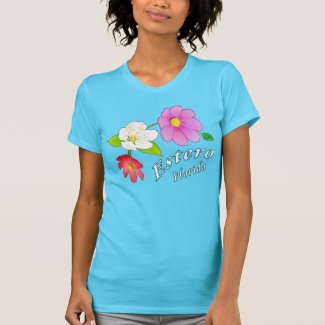 Where is Estero Florida Shirt for Women (I can Add Your City and State too.
Customizable Keychains will make any Snowbird Happy. Take it with them to Florida, Arizona, California or any warm place.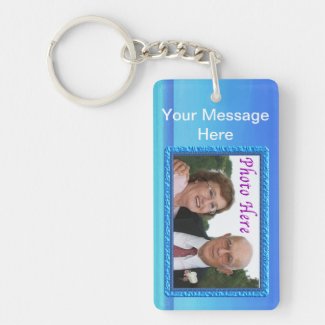 Your Photo Keychain Framed by Beach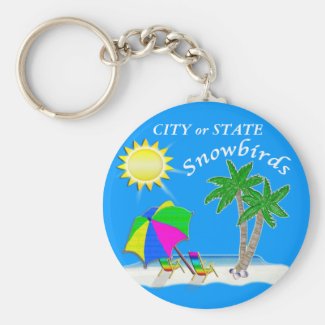 Customizable Beach Themed Keychains for Snowbirds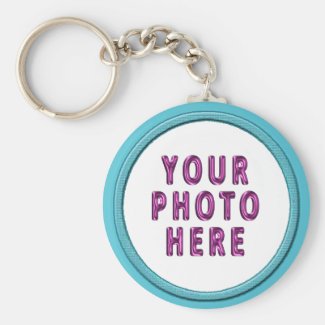 Picture Keychains with Aqua Frame to Set Off YOUR PHOTO
Customizable Large Print Playing Cards and Tropical Themed Christmas Ornaments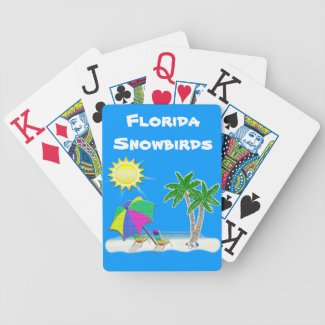 Large Print Playing Cards for Florida Snowbirds can be Changed to Any TEXT.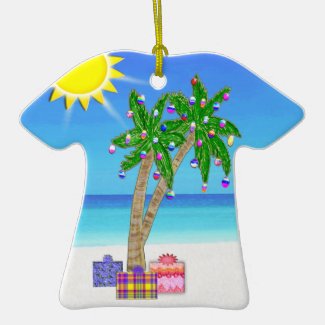 Tropical Christmas Ornament in T Shirt Style Ornaments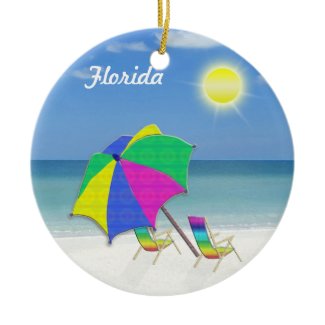 Beach Themed Christmas Ornaments
Cool Florida Gifts for Snowbirds. Florida bumper stickers.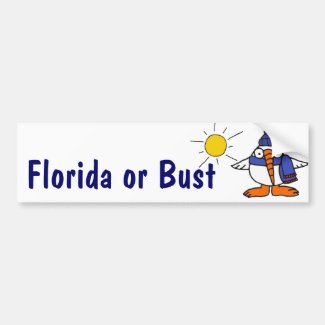 Florida or Bust Snowbird Bumper Sticker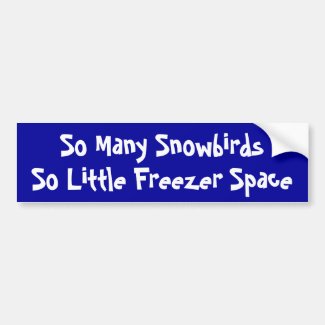 So Many Snowbirds So Little Freezer Space Bumper Sticker
Mom and Dad, Grandma and Grandpa will LOVE these Snowbird Gifts because the LOVE being Florida Snowbirds and are proud to show it off to their friends. Great Personalizable gits too. Most can be customized to change the names on them.
Show off your Tropical Paradise Pride with cool Gifts for Snowbirds that Mom and Dad or Grandma and Grandpa or anyone who is a Snowbird would love. Call Linda if you would like any changes to these custom original designs or special order requests. Start thinking about What to Get Your Grandma for Christmas? Any of my designs can be placed on ANY Zazzle Product.
100% Love it Guarantee from World Renown Zazzle who boasts Less than 1% Return Rate and has Earned an A+ Better Business Bureau Rating because of Quality Merchandise, Crystal Clear Printing on Personalizable Gifts and Fast Service. Most ship within 24 hours but some products take longer to produce. See shipping information.
Look into Free Shipping with Zazzle by buying the $9.95 Black Zazzle Free Shipping Program for an entire YEAR. I bought it and now all my gifts will come free. Pays for itself with only a couple of shipments. Send Personalizable Gifts to the whole family. They will LOVE IT.
Call Linda if you would like help with Personalizing Any Product. I can even do some basic PhotoShop techniques at no extra charge. Remember, Click the "Customize it" Button to RE-Size or MOVE your Photos around and for lots of extra customization options.
Little Linda Pinda 239-949-9090 or Email L[email protected] Subject Line "ZAZZLE HELP"
Thank you so much for shopping with Little Linda Pinda as it is helping me to bring you more Original Designs and Photographs for fun Personalizable Gifts.